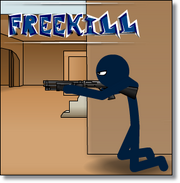 The Benelli M3, or the Leone 12 Gauge Super, is an Italian shotgun used by the Counter Terrorists.
de_dust2
Edit
The gun appears for the first time in Freekill's hands. Freekill will use this weapon in an attempt to kill Killer, but is ultimately killed himself.
Counter Offensive Trailer
Edit
After the announcer states that there is less lag, ironically, Lagger is frozen to a standstill. Freekill attempts to shoot Lagger with the M3, but the shell flies right through.